LICHTENBERG FIGURE WOOD BURNING
Mike Sorge & Kirk McCauley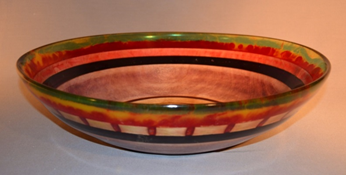 Do this at your own risk - CVW assumes no responsibility for anyone injured doing this!!
The liquid solution we all used was 1 tablespoon of baking soda for each cup of water, and the baking soda will stay dissolved longer when using warm water.
Charlie Wortman Fractal Burning from Fred on Vimeo.
Other Links:
http://conestogaworks.com/woodburners.html
http://www.instructables.com/id/Wood-Lichtenberg-Figures/
https://www.pinterest.com/explore/lichtenberg-figures/